2022
Banco do Brasil
Brazil
For over 200 years, Banco do Brasil has been part of the financial routine of Brazilians, leading movements, regulating the national economy and creating new paradigms. In order to keep such a traditional brand contemporary, it is not enough to follow the market movement: it is necessary to make a difference. In this context, the Carteira bB was born, a tool capable of creating digital experiences that simplify the lives of Brazilian people, provides financial freedom and is accessible to all people. 
[PT-BR]
Por mais de duzentos anos, o Banco do Brasil é parte da rotina financeira dos brasileiros liderando movimentos, pautando a economia nacional e criando novos paradigmas. E, para manter contemporânea uma marca tão tradicional, não basta acompanhar o movimento do mercado: é preciso fazer a diferença. Neste contexto nasce a Carteira bB, uma ferramenta capaz de criar experiências digitais que simplifiquem a vida dos brasileiros, fomentem a liberdade financeira e sejam acessíveis a todas as pessoas.

It would not be possible to achieve this goal without considering the different social and economic contexts in Brazil. Based on this scenario, and in a highly competitive market, we immersed ourselves in the brand and found out its main strength: Banco do Brasil knows Brazilians. Its enormous reach, with over five thousand branches and service terminals throughout the country, brought the insight for the creation of the concept – that honors cultural diversity and brings its brand expression closer to the reality of each Brazilian. In this sense, a legitimately Brazilian visual language and verbal tone were born. After all, Carteira Bb is for everyone.
[PT-BR]


Não seria possível alcançar esta meta sem considerar os diferentes contextos sociais e econômicos do Brasil. A partir deste cenário, e em um mercado altamente competitivo, fizemos uma imersão na marca e descobrimos sua principal força: o Banco do Brasil conhece os brasileiros. Sua enorme capilaridade, com mais de cinco mil agências e terminais de atendimento no país inteiro, foi o insight para a criação do conceito – que honra a diversidade cultural e aproxima sua expressão de marca à realidade de cada um dos brasileiros. Neste sentido, nasceram uma linguagem visual e um tom verbal legitimamente brasileiros. Afinal, a Carteira bB é para todos.
Brazilian culture and its popular expressions were the basis for creating the visual concept of the Carteira bB, for it was necessary to quickly identify with different audiences and minimize the perception of the complexity and bureaucracy of the financial market. From this direction, the brand's expression unfolds to all its points of contact: from the art direction to the narratives present on digital platforms. Carteira bB also proposes new colors for Banco do Brasil, which connects it even more to the digital environment without losing the familiarity and trust of the public. Carteira bB wants to become part of Brazilians' routine by offering unique experiences capable of evolving the relationship of Brazilians with their finances and, consequently, with the bank. 
A cultura brasileira e suas expressões populares foram as bases para a criação do conceito visual da Carteira bB, pois era preciso criar rápida identificação com diferentes públicos e minimizar a percepção de complexidade e burocratização do mercado financeiro. A partir deste direcionamento, a expressão da marca se desdobra para todos os seus pontos de contato: desde a direção de ilustração até as narrativas presentes nas plataformas digitais. Carteira bB também propõe novas cores para o Banco do Brasil, o que o conecta ainda mais com o ambiente digital sem perder a familiaridade e a confiança do público. Carteira bB quer se tornar parte da rotina dos brasileiros ao oferecer experiências únicas capazes de evoluir a relação do brasileiro com suas finanças e, por consequência, com o banco.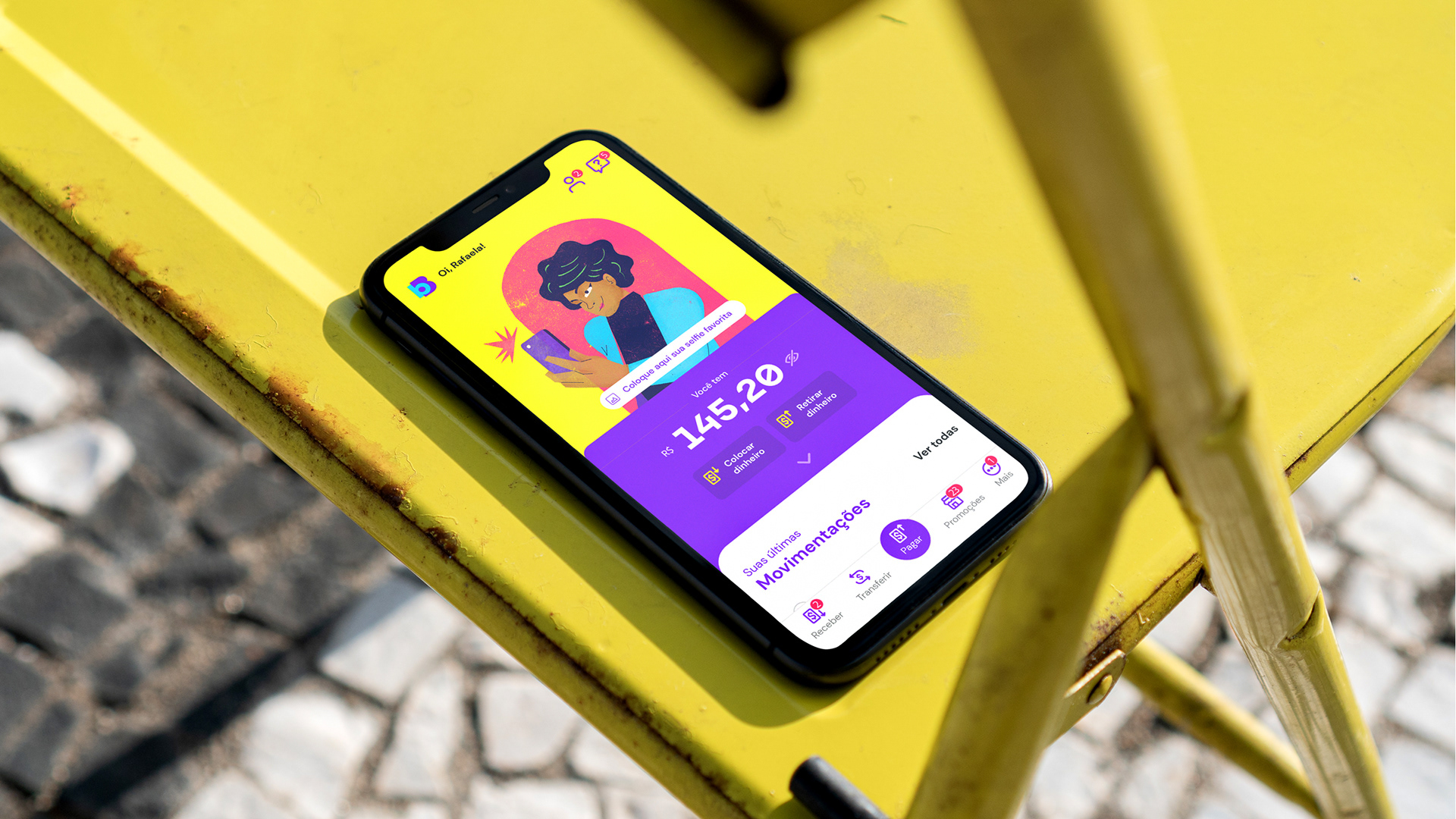 Strategy — Daniel Alencar, Carolina Lyra, Laura Scachetti, Maria Paula Bicalho
Design — Rodrigo Valdevite, Diego Oliveira, Gustavo Vasconcelos, Makoto Saito
Verbal identity — Alexandra Ferreira, Juliana Bezerra
Motion graphics — Francisco Fernandes
UI/UX — Rodrigo Alarcon, José Araujo
Ilustration — Estúdio Barca